Which Fire Fighting Foam is best for the environment?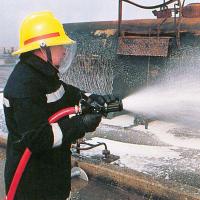 Which Fire Fighting Foam is best for the environment?
According to the UK Environmental Agency: whichever one is best at putting out fires!*
All foams pollute as they contain a wide range of polluting chemicals such as detergents, surfactants and solvents
Fire water run-off is polluting
But you should always use the firefighting foam which is best suited to your fire risk!
---
When is it recommended to use C6 AFFFs instead of Fluorine Free Foams?
---
Testimonial by Solberg's Vice President

At a recent public hearing in Washington State, USA, it was debated whether fluorosufactant-containing fire fighting foams should be banned completely. 
| | | |
| --- | --- | --- |
|   | Called as an expert witness, the Vice President of Solberg, Mitch Hubert, argued that users should not use fluorine free foams but use only fluorosurfactant-based AFFFs and AR-AFFFs "for critical situations like aircraft rescue firefighting and large catastrophic Fuel-In-Depth type fires". |   |
For his full testimonial please see the "Solberg Statement" page or download our recent update here.
---
*Presentation by Matthew Gable, Senior Emergency Planner, Environment Agency at the Angus Fire Foam Seminar, Manchester, UK, 3rd June 2014.