An introduction to Fire Fighting Foam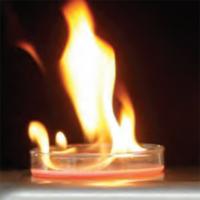 An introduction to how Fire Fighting Foam works, the areas it is used and what you need to know. I hope you find it helpful!
How does Fire Fighting Foam work?
The Fire Triangle:
Any fire needs 3 elements:
A fuel source which is ignited
Heat/ Combustion
Oxygen
Eliminate any of these elements and the fire goes out!
Aqueous Film-Forming Fire Fighting Foam (AFFF's) contains a special chemical called a fluorosurfactant.
When the foam is applied to the fire, the fluorosurfactant spreads across the ignited fuel forming a foam blanket. This blanket removes the oxygen part of the triangle and extinguishes the fire.
Where is Fire Fighting Foam used?
 Anywhere flammable liquids are present and safety is of the greatest concern!
Offshore platforms
Refineries
Airports
Tank Forms
Chemical works
Power stations
Mine and equipment protection
Who specifies/buys Fire Fighting Foam?
Fire Safety Manager - usually a member of the HSE Team
Consultants and Project Engineers - especially for new builds.
What approvals are required?
To guarantee the quality of a Fire Fighting Foam, it is important the foam you choose meets at least one of the following International Standards.
UL (Underwriters Laboratory)
A US testing house which tests the performance of a foam to a standard called UL 162.  This is the main worldwide standard and, once obtained, representatives of the UL visit the manufacturer every 4 months to check the foam is conforming to their standard.
The International Civil Aviation Organisation (ICAO) has two standards: Level B and Level C.  The difference is in the application rate, with Level C foam being the more difficult to pass.
European Standard EN 1568
EN1568 is a complicated standard with 7 different pass rates.  Good quality foam will achieve a 1B or better where 1 is the level of fire extinguishment and B is the level of burnback, i.e. ability of the foam to prevent re-ignition.
A standard used to test foams protecting oil tank farms.
An American Military Standard used by their Army, Navy and Airforce.
The Oil Technics range of Aqueous Film-Forming Fire Fighting Foams (AFFF's) are approved to:
Please refer to the individual product page for further details. More information on International Foam Standards can be found in our Knowledge Base here.
How long will foam last?
A good quality foam (i.e. UL approved) will last at least 10 years, if stored correctly.
How do we know if foam stocks are OK?
According to the NFPA – National Fire Protection Association - foam stocks and foam systems should be tested at least once per year.
In the UK, most users test their foam at least twice if not three times per year. They do this by sending their samples to a reputable foam test laboratory.
We operate such a foam test laboratory: customers send us their samples and we send them a test report saying whether the foam is satisfactory or not.
How do we offer customers our foam test service?
We test over 300 samples per month at an average price of £100 per test.
I would ask you to research what the going rate is for a foam test, as in some parts of the world where a foam laboratory is not readily available the customer can be paying £100-£200 per test.
Offering your customers a foam test service is an invaluable service which will enhance your relationship with your customer and create a regular income stream.
We have recently launched our Foam Test Box service. It works in this way:
We send you a box of foam sample bottles and labels, which you send to your customer.
When received, your customer uses our bottles and labels for their samples.
When the samples are ready, you let us know and we will arrange collection from your customer.
After we receive the samples, we then send you our test report.
The important point is that it can often take many weeks to send a foam sample to a laboratory – our Foam Test Box will operate a 5 to 7 working day turnaround.
Finally: the environment 
Recently it has been found that Fire Fighting Foams contain chemicals that can "degrade" in the environment and can cause concern of toxicity and persistence. 
To prevent this, the foam industry has produced new foams where the carbon chain of the chemicals is C6 or shorter.
All of our foams are now C6 compliant and have been retested to UL 162, EN1568, ICOA etc.
For further information on C6 foams, please click here.
I hope this material helps you to understand the Fire Fighting Foam industry!
David
Posted by David Evans, 8th February 2016