Introducing - Foam Seal Oil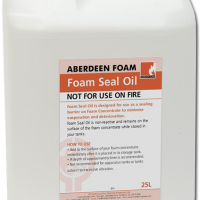 We're proud to introduce our latest product – Foam Seal Oil – designed to offer a non-reactive barrier on stored Foam Concentrates, to help minimise evaporation and deterioration.
Our Foam Seal Oil is an inert mineral oil which can be poured on top of a stored Foam Concentrate.  The oil will then remain on the surface of the Foam Concentrate, creating a sealing barrier between the Foam and oxygen.  As it is non-reactive, the seal remains on the surface of the Foam Concentrate throughout the duration it is stored in its container.
Where to use:
Ideal for use in hot countries, where there is the potential for evaporation or degradation of the Foam concentrates to occur.
Not recommended for use in apparatus tanks, or tanks subject to excessive vibration.  Please note, our Foam Seal Oil has no fire fighting capabilities.
Why is the storage of Foam Concentrates so important?
It is crucial to ensure your Foam Concentrate is stored correctly in order to safeguard the effectiveness and maximise the life of your foam.
It is paramount that you always follow the Foam manufacturer's storage and use guidelines.  However, there are several different reasons why a foam could deteriorate and degrade prematurely, such as; dilution, contamination and extremes of temperature to name a few.
If you'd like to learn more about this important topic, please read our recent article "Understanding why Fire Fighting Foams can fail"

| | | |
| --- | --- | --- |
|   | If you have any questions, or would like any further information on any of our products, please don't hesitate to contact us on: |   |
Disclaimer:
Whilst every effort has been made to ensure the information presented above was correct at time of publication, Oil Technics (Fire Fighting Products) Ltd., does not assume any liability to any party for any errors or omissions. The above information is supplied for guidance only and is without guarantee. Any opinions expressed in this document are not necessarily those of the Company and are not for onward publication without consent.